► Ever wanted to recreate that infamous "Supersaw" Roland JP-8000/JP-8080 oscillator on your Fusion?
First
• initialize a new patch
• chose Synthesis type: FM
• turn all 6 oscillators on and set them to sinewaves
• uncheck Osc Reset (we want free running oscillators)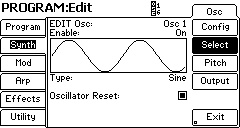 • route each osc directly to the output with a volume of 60%
• route each osc to itself with a volume of 30.2% (FM feedback to make it a sawtooth)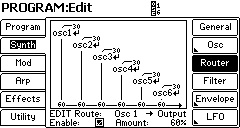 OK, so we have 6 sawteeth sounding together.
Now comes the critical time: we still have to detune them appropriately to obtain that infamous Supersaw.
Setting the pitch at oscillator level is getting you nowhere because the possible adjustment is not fine enough.
It takes a very fine tuning to obtain the "Supersaw" sound: not enough detuning between pairs of oscillators gives unwanted beatings (and in a set of 6 oscillators there are 15 pairs!), too much detuning generates unwanted partials at high pitches.
So we create 5 modulations and we assign them to a single controller:
• Source: Knob 1
• Destination: Osc Frequency
• Index:
Osc 2, Osc 3, Osc 4, Osc 5, Osc 6
, respectively
• Type: Additive
• Amount:
-0.26%, -0.50%, +0.19%, +0.44%, +0.76%
, respectively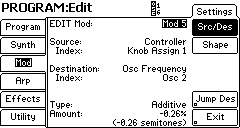 ...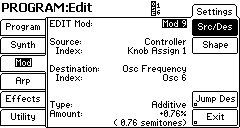 ► When we play the patch we have to adjust Knob 1 to obtain the wanted result.
I have found out that, with the amounts of modulation programmed as described above, the best result (*) is achieved with
Knob 1 set to a value of 32
.
(*) I used my V-Synth XT (which has, among many other things, the same VA capabilities as a JP-8080) as a standard measure
An A/B comparison I made between that Fusion FM patch and a basic patch (single oscillator, filter by-passed, no FX) I programmed on my V-Synth XT using the *real* Roland Supersaw oscillator shows that my Fusion patch is pretty close to the real thing.
Unfortunately, the Fusion FM suffers from heavy aliasing in the upper octaves (the V-Synth remaining aliasing free).